SSLCertScanner v4.0 The FREE SSL certificate scanner released
SSLCertScanner is the FREE SSL certificate scanner tool which can remotely scan, retrieve and validate the SSL certificate from any host either on the intranet or internet.
It can greatly help you to track expired/rogue certificate on your SSL servers.
You can either enter the IP address or name of the host such as www.facebook.com. Also it supports both HTTPS (port 443) as well as LDAPS (port 636) service for scanning SSL certificate. On successful completion, important certificate details are displayed along with status of validation. You can also view the complete details of SSL certificate by simply double clicking on it.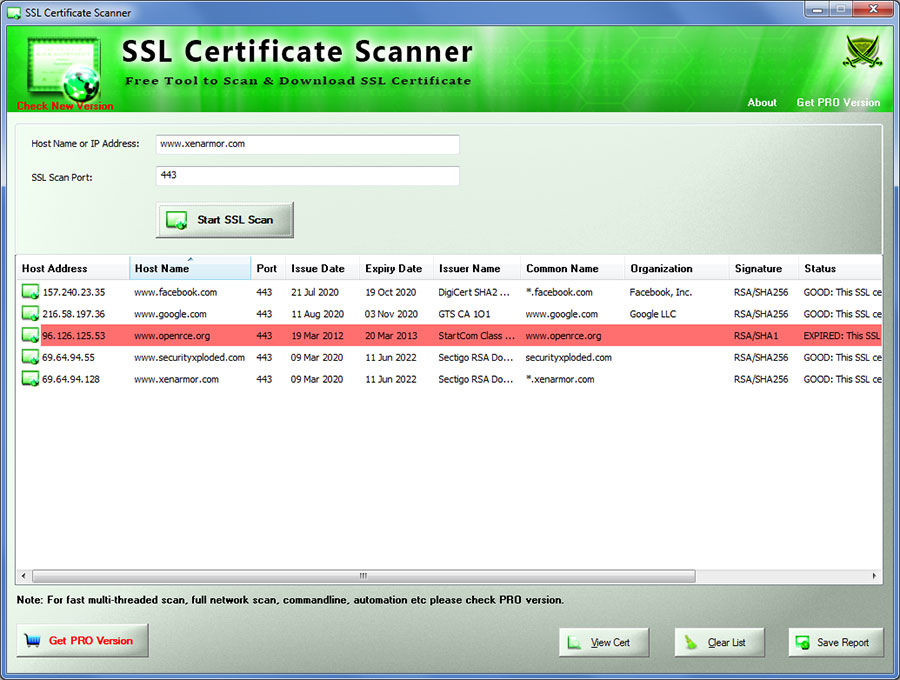 SSLCertScanner is completely portable tool which also comes with Installer to support local installation & uninstallation.
It works on wide range of platforms starting from Windows XP to latest operating system Windows 7.
Features
 Remotely scan SSL certificate on any host within the intranet or internet.
 Scan by using hostname (google.com etc) or IP address of the host
 Support for scanning SSL certificate associated with LDAPS and HTTPS service.
 Manually specify the custom SSL P0rt number.
 View the complete ssl cértificate of the host.
 Displays detailed status for each host during scanning operation.
 Automatically validates if the certificate is expired or not.
 For each SSL certificate discovered during the scan, following details are displayed

Host Address
Certificate Subject Name
Certificate Issue Date
Certificate Expirty Date
Certificate Validation Status

 Option to stop the scan at any point during scanning operation.
 Completely P0rtable Tool which also comes with optional Installer for assisting you in local Installation & Uninstallation.
Save Post as PDF